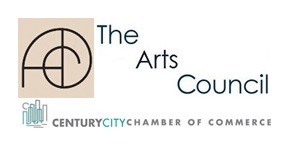 The Arts Council was organized in 2009 under the auspices of the Century City Chamber of Commerce, a 501(c)6 organization under the U.S. Internal revenue Code.
The Council is dedicated to enhancing the quality of life and providing leadership in Century City and its surrounding communities through the promotion and support of a broad range of artistic activities and initiatives.
Since the creation of the Council in February 2009, its strong and committed membership has pursued its campaign of artistic awareness, education and creation with vigor. Its achievements have been telling and the publicity generous. Its "Good Art" panel luncheon series has covered many facets of the arts including visual arts with scholars, museum curators, dealers and auction houses; poetry with the U.S. Poet Laureate; antique appraisals; photography; theater; ballroom dance and musicals; and architecture.
Since the creation of its Sculpture Committee in 2012, the Council has brought two year-long exhibitions of outdoor art to the community, the second of which was inaugurated in March 2015, with 20 contemporary art works gracing the landscape of Century City in Los Angeles. The third, with the funding of our Arts and Culture Foundation, will be installed in late 2017.
The Council Chair is Jean Tardy-Vallernaud, Founder of Gainsborough Capital Art and Finance, and President of the Century City Arts and Culture Foundation, a 501(c)3 non-profit organization.
Council members include Molly Barnes, artist-in-residence, West LA College, art dealer and bi-coastal radio host; Michael Douglas Carlin, author, film producer, philanthropist, and publisher of centurycitynews.com; Melanie Clark, Sr. Vice President, City National Bank Entertainment Division, Beverly Hills; ; Ruth Crnkovich, independent curatorial advisor, CRN Fine Art; Michael Heumann, independent art attorney, Michael Heumann Art Law, and former Managing Partner, Nossaman LLP; Daniel Janotta, AIA, artist and architect, Principal, Johnson Fain; Peter Myers, musician, The Fabulous Peter Myers Orchestra; Scott Schaefer, art scholar and advisor, former Senior Curator of Paintings, the Getty Museum; Carole Schiffer, Sr. Consultant, Coldwell Banker Previews; Harris Sperling, advisor to non-profit organizations and former Chair, Century City Chamber of Commerce; Adam Torres, CEO, Century City Wealth Management LLC; and Nancy Wood, President and CEO of the Century City Chamber of Commerce. David Berardo, international tax attorney and partner, DiMascio & Berardo, serves as Advisor to the Council.